Day Two of my Alaska Railfan Adventure
We, my group and the group we met the night before, spent the entire second day riding on the White Pass and Yukon Railroad between Skagway, Alaska and Fraser in British Columbia. We left Skagway on a charter train pulled by steam locomotive number 73 for a day of photographing this train as well as a WP&Y freight train pulled by a pair of ALCO diesel locomotives that followed behind us. This freight train was provided especially for us by the WP&Y Railroad. Everyone at the White Pass treated us great. A big thank you to everyone at the White Pass & Yukon. There were numerous photo run-bys set up for us at scenic spots between Skagway and Fraser. Some of these stops were not large enough for the entire group to stand and take photographs. This was accommodated by doing the run-by more than once with different folks photographing from the designated place.
An explanation for those who are not "hardcore railfan photographers". A photo run-by is when a train is run through a scenic location on cue allowing staged photographs to be taken. This was done by having the train we were riding stop and let us off at a designated location. The train would then back up, come forward past where we were waiting and shooting. It would continue up the track a short distance leaving enough empty rail for the freight train to roll by and be photographed. The second train would stop then go back down the track allowing the first train to return for us before proceeding to the next run-by location.
Run-bys were done at bridges, entering and exiting tunnels, and in other locations which provided good backgrounds as well as safe locations to set up cameras.
After a number of photo run-by stops we reached the border with Canada at White Pass Summit, 20.4 miles away from and 2,865 feet higher than the Skagway station. After taking photographs at the border crossing we continued on to the Canadian Customs site at Fraser, British Columbia. After the customs agent came aboard and made his appointed rounds the train headed back toward Skagway. More photo run-bys of both the passenger and freight trains were done on the return trip. We returned to Skagway at 5 PM.
That night I was my first night in the land of the midnight sun. It felt very different to have daylight after 10:30 PM. The lack of darkness combined with the excitement of the trip and the four hour time difference between Massachusetts and Alaska left me at a total loss for time. "It's 11 PM here in Skagway which means it's 3 AM in Boston. Shouldn't I be sleeping? Maybe if it were dark I would feel the need for sleep."
White Pass & Yukon Route Railroad
One of the first and a very scenic photo run-by stops was at the bridge at Glacier Station. Both the steam locomotive hauling our passenger train and the diesel powered freight train performed for us.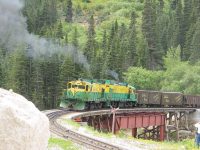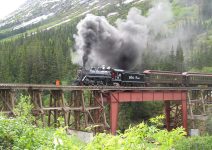 The railroad crosses the US/Canada border at White Pass, a desolate area that is marked with flags and a small building and snow.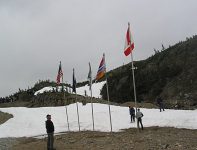 This photo of the rail line just outside of Skagway shows the intimidating stone that was removed to make way for the train tracks.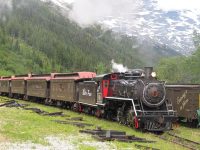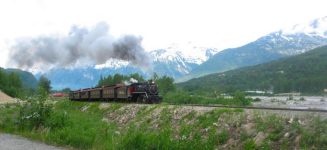 A little about Skagway...
Skagway is a port in the inside passage of Alaska. It is a popular stopping port for ocean liner cruises. While we were in Skagway I saw at least 5 different liners from Holland Cruises and Pacific Cruises. These are massive ships. The number of passengers onboard these boats is more than the full time population of Skagway.

Skagway is an Alaskan city but I would describe Skagway as a tourist town. The White Pass and Yukon Railroad is now a tourist railroad. The majority of it's riders are passengers on cruise liners that have docked in Skagway. The downtown area of Skagway is quaint and historic. Many of the buildings constructed during the Yukon Gold Rush of 1898 are standing and are occupied. Many of the stores are stocked with souvenirs for tourists. There are also small shops with handcrafted and native items.

For more information about Skagway visit the Skagway Convention & Visitors Bureau web site.
---

All photos copyright ©2004,2006 John Simakauskas