Day One of my Alaska Railfan Adventure
The trip started on June 10, 2004 with a flight from Seattle to Juneau. In Juneau the group boarded three single propeller airplanes for an hour flight to Skagway.
It was late afternoon when we arrived in Skagway. We had a few minutes to wander about in downtown Skagway before boarding the White Pass & Yukon Route Railbus #5 at the White Pass and Yukon Railroad depot. The railbus took us to the WP&Y shops where we were free to wander about in the yards and in the shop. What a fantastic way to start a trip! Wandering about in a railroad yard without being chased away. This was great! After poking about in the yard and shops we returned to town to a wonderful meal along with verbal presentation of the history of the WP&Y as well as a description of what was in store for us in the next two days. Our group of 14 would be joined by another rail tour group while in Skagway.
The Juneau airport terminal and the Skagway airport.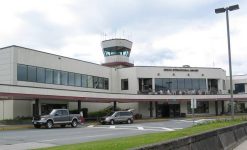 The White Pass and Yukon Route in Skagway
The Railroad Office Building is next door to the station. The Railroad Building was the White Pass and Yukon's general office building when it was built in 1900. Now the National Park Service has their Klondike Gold Rush headquarters here. The original train station, next door to the Railroad Building, is now the National Park Service Visitor Center.
At the depot the railroad has their rotary snowplow on display. Rotary Snowplow number 1 was built for the White Pass and Yukon in 1898. When pushed by two helper engines it was used to remove snow up to 12 feet deep. It was retired in 1965 but was restored to operational condition and came out of retirement in 2001 for a ceremonial snow removal effort.
The city of Skagway is a busy port for cruise ships. The railroad has a set of tracks that go to one of the docks. I saw no less that five different ships at the docks during my three day visit to Skagway.
The mountains surrounding the city quickly climb up from the depot which is just a few feet above sea level.
The White Pass and Yukon Railroad in Skagway, Alaska.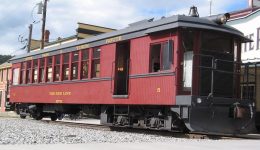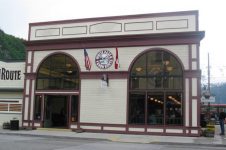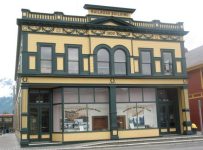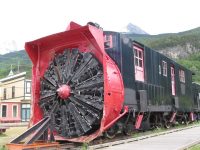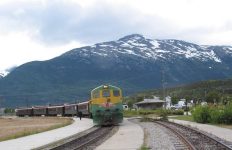 The WP&Y route map

Visit the White Pass and Yukon Route Railroad to learn more about the railroad.
The White Pass has a web cam mounted on top of the station pointed over the tracks toward the bay. It shows the trains at the station and the cruise liners at the docks.
To learn more about the history of the Klondike Gold Rush visit the National Park Service Klondike Gold Rush web site.
---

All photos copyright ©2004,2006 John Simakauskas