Day Three of my Alaska Railfan Adventure
Day three, Saturday June 12, 2004 was another day of riding on and photographing the White Pass and Yukon Railroad. Today we would be riding in a passenger train pulled by a pair of GE built diesel locomotives. There would be no special freight train for us today. There would, however, be a regularly scheduled passenger train pulled by a steam locomotive leaving Skagway behind us. We would have an opportunity to photograph this train climbing the steep grades from a vantage point at the steel cantilever bridge 19 miles out of town. The steel cantilever bridge was the tallest of its kind in the world when it was constructed in 1901. The bridge was used until 1969.
After photographing that train laboring up the steep grades, some of which are almost 3.9%, we rode on to White Pass. After photographing the steam train we waited on a siding for that train to pass by us. We would catch up with that train in Bennett after taking more photographs of trains.
At Fraser there was a work train on a siding. We stopped here and took photographs of the train which had the blue number 114 diesel locomotive ahead of side dump hoppers, a depressed center flatcar, a tank car and a caboose.
We caught up with the steam train at the station in Bennett, British Columbia. Bennett is on the shores of Lake Bennett. During the Yukon Gold Rush Bennett was an important location. It was here that gold seekers would build or buy boats to float the remaining 560 or so miles downriver to the Klondike and Dawson where an almost limitless supply of gold nuggets was said to lie.
The scheduled train pulled by steam locomotive #73 would leave Bennett shortly after our arrival. This gave us time to seek out a location for photographing the train as it left the station. It was also an opportunity to explore Bennett. After the Gold Rush of 1898 passed Bennett was no longer a busy location. A few people stayed here and there are still a small number of folks who call Bennett their home.
One of the buildings constructed during the Gold Rush that is still standing is the St. Andrew's Presbyterian Church. Not just a place or worship, the church was the focus of the town's social scene after it's construction in 1899.
After leaving Bennett there were a few more photo run-by opportunities. At Fraser the other group of rail fans boarded busses and left to continue with their tour. My group was back in Skagway by 5 PM. After departing from Lake Bennett the clouds left the sky letting the sun brighten the day to make the sights even more spectacular to behold.
After having dinner in Skagway I spent the evening wandering about town, around the depot, and along the docks. It still looked and felt like evening, not night, when I returned to my room at 11 PM.
Between Skagway & Fraser
Get ready to enter the tunnel at Tunnel Mountain, 16 miles out of Skagway.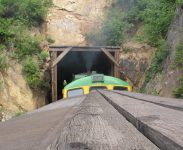 From out vantage point near the steel cantilever bridge we watched the train climb up the steep grades and come out of the tunnel.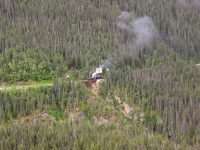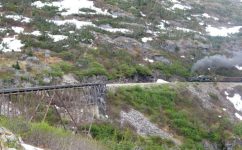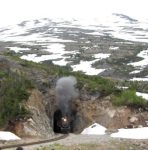 Somewhere between White Pass and Fraser

The locomotive on a WP&Y work train near the customs house in Fraser, B.C.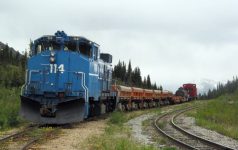 Lake Bennett, British Columbia
St. Andrew's Presbyterian Church and the White Pass and Yukon Railroad station.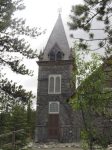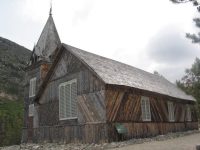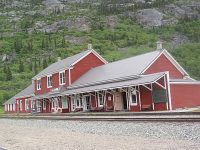 Land of the midnight sun
Bennett is a part of Parks Canada and the Chilkoot Trail National Historic Site
---

All photos copyright ©2004,2006 John Simakauskas