Day Ten of my Alaska Railfan Adventure
My last day of railfanning in Alaska started with chasing the southbound Alaska Railroad Coastal Classic from Anchorage to Seward. Some members of the group chose to sleep late this morning. Others, myself included, chose to get up early and chase trains all day long. I'm glad I chose to chase the trains rather than sleep late. The weather this day was perfect and provided for spectacular views and photos.
We left Anchorage before the Glacier Discovery which enabled us to find safe and scenic locations to photograph the train as it passed. Upon leaving Anchorage the train travels along the coast of Cook Inlet to Portage. The train then travels inland through Moose Pass before arriving in Seward on the Gulf of Alaska.
After arriving in Seward we had time to explore the town and have lunch at a local eatery before heading to the Exit Glacier in the Kenai Fjords. At the Kenai Fjords National Park we walked up to the glacier. It was extremely warm that day and we watched the ice of the Exit Glacier melting at a relatively quick pace. It was mid-afternoon when we left the fjords and returned to Portage to catch the train going to Whittier. After shooting the train we chased it to the tunnel at Porter Lake where we photographed the train.
This was the end of the railfaning for the day and for the trip. Tired but very happy our group returned to Anchorage where we met the others on the trip, the sleepyheads, and went out for a goodbye dinner. After dinner it was back to the hotel to pack our bags and get our last night of sleep in Alaska.
Chasing the Glacier Discovery between Anchorage and Seward
Alaska Railroad equipment seen on our last day in Alaska included number 31 F40PH shell, RDC 711, domes 502 and 522, and 3010, a GP40-2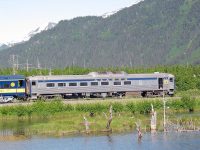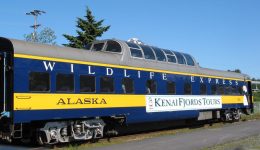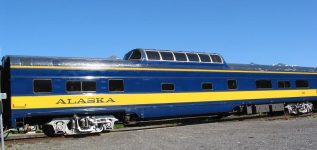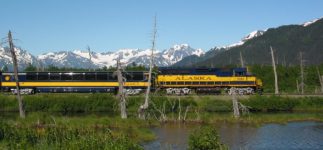 Along the rails between Anchorage and Seward.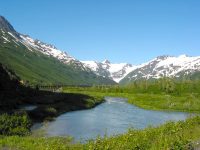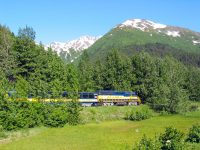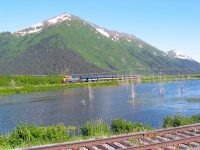 Exit Glacier in the Kenai Fjords
The Exit Glacier is between the mountain peaks.



Let's get close to the glacier.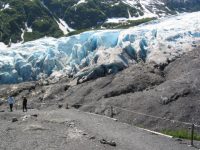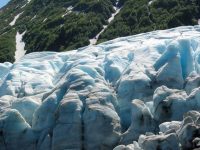 Visit the National Parks Kenai Fjords National Park web site and the Exit Glacier page for more information.
Seward, Alaska
The Seward train station and local peaks.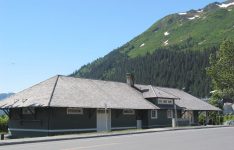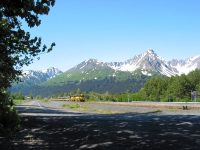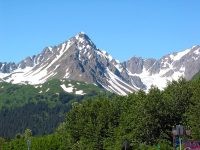 In the great earthquake of 1964, tsunamis caused enormous destruction and loss of life in Seward. There are now marked evacuation routes should these tremendous waves occur again.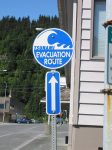 Portage Lake in Alaska
Icebergs in Portage Lake are from the glacier seen in the background.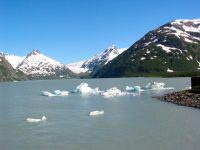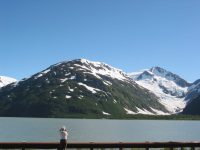 ---

All photos copyright © 2004,2006 John Simakauskas