Day Eleven - Time to Leave Alaska
On day eleven, June 20th, I wanted to stay in Alaska "just one more day". But this was not to be. We split up and said good-bye this day. Some of us flew back to Seattle while others remained in Alaska to explore the state as typical tourists, not "hardcore rail fans".
Here are a few more photographs I shot in Alaska on my Railfan Adventure in the land of the midnight sun.
A collection of some other photos I took
Rocks alongside the White Pass & Yukon Railroad tracks -- An ocean liner at the docks in Whittier -- an unidentified location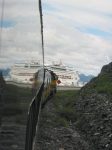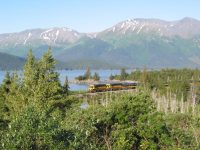 The Alaska Railroad
ARR 2006 a GP38 -- The controls in an RDC -- a freight car in Anchorage -- an inspection car -- an ARR/DOT label -- caboose 1069 -- cafe car 452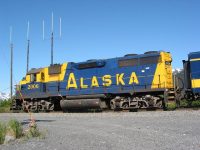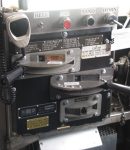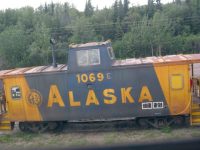 Cruise lines rail cars
Cruise lines that have Alaska cruises have their own rail cars that are connected onto the Alaska Railroad trains. These cars are for the exclusive use of the cruise line passengers.The cars have large platforms for viewing the passing scenery and the 'nuts' who chase trains.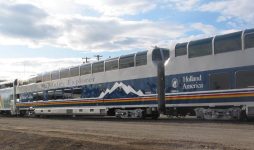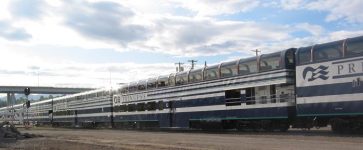 Nenana Ice Classic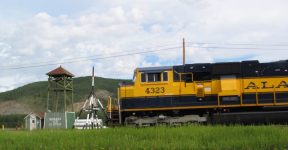 A black and white tripod used in the Nenana Ice Classic

The Nenana River Ice Classic competition began in 1917 when railroad engineers bet a total of 800 dollars, winner takes all, guessing the exact time (month, day, hour, minute) ice on the Nenana River would break up. Each year since then, Alaska residents have guessed at the timing of the river breakup. A tripod, connected to an on-shore clock with a string, is planted in two feet of river ice during river freeze-up in October or November. The following spring, the clock automatically stops when the tripod moves as the ice breaks up. The time on the clock is used as the river ice breakup time. The 2004 jackpot was $301,000
Anton Anderson Memorial Tunnel in Whittier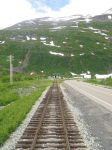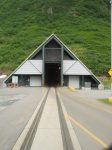 The Anton Anderson Memorial Tunnel is a 2.5 mile long tunnel through Maynard Mountain built by the Alaska Railroad in 1941. In 1998 construction began which transformed the railroad tunnel into a one-lane, combination highway and railway tunnel that allows cars and trains to take turns traveling through the tunnel.
---


All photos copyright © 2004,2006 John Simakauskas