Day Nine of my Alaska Railfan Adventure
After checking out of the hotel on the shores of Lake Lucille we headed to the Wasilla train station to photograph the northbound Denali Star. After the train passed we made a brief visit at the Iditarod Race Museum and then proceeded to the Museum of Alaska Transportation and Industry. All the items in the museum's collection have a significance to Alaska. If it doesn't have some history in Alaska it's not allowed into the collection. Along with cars and trucks and airplanes and tractors and military vehicles are a collection of trains and train memorabilia. Some, but not all, of the trains are on static display. Some have undergone restoration while others await their turn to be restored to a like new condition. After being given a great tour of the trains we were treated to a lunch of "Section House Stew" which was made with moose meat. After lunch we went behind the museum and rode on the Alaska Live Steamers Alaska Central Railroad which runs through a wooded area.
That afternoon we left the museum and proceeded on to Palmer. After making a stop in town we were invited to visit and operate the trains of the Consolidated Southwestern Railroad, an HO gauge model railroad. It is a very large and impressive layout! After everyone had a chance to operate trains on the layout we loaded into the vans and headed for Anchorage.It was late when we got to the hotel.
After nine days of railfanning some members of the group were physically tired and wanted time to rest from chasing trains. The group would split into two smaller groups on day 10. One of these groups would leave the hotel early in the morning, the train departs Anchorage at 6:45, and would chase the Alaska Railroad Coastal Classic to Seward. The second group would sleep-in and take a leisurely ride to Seward, arriving there after the train. I chose to be in the group that left early and chased the train. I'm glad I did as the weather was perfect and provided for spectacular views and photos as you'll see on the next page.
Before leaving Wasilla we photographed the northbound Denali Star. Alaska Railroad locomotives 4015 and 3013 were pulling the train.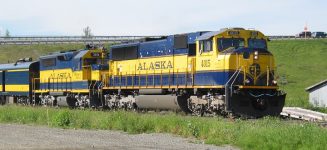 At the Iditarod Museum in Wasilla, Alaska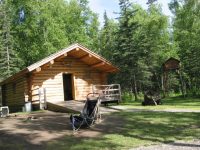 Alaska Museum of Transportation and Industry
A few of the railroad items in the museum's collection are the Alaska railroad locomotives number 1000 and 1718, USAF loco 1841, Chitina bus, a Chrysler station wagon with Fairmont hyrail equipment, and a flange plow.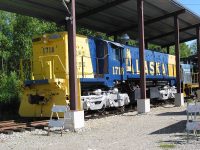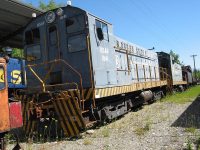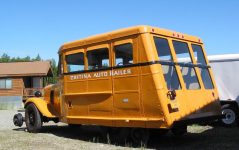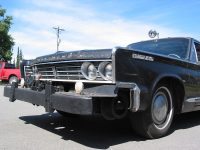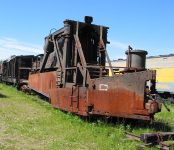 Palmer, Alaska
The train station in Palmer, Alaska and a view.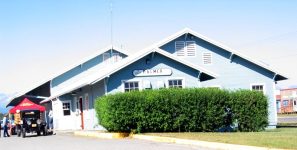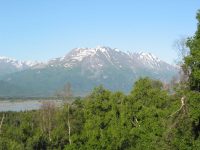 Consolidated Southwestern Railroad
A turntable and roundhouse at the Consolidated Southwestern Railroad model railroad layout


---

All photos copyright © 2004,2006 John Simakauskas