Day Six of my Alaska Railfan Adventure
On day six we would spend the day chasing the Denali Star train from Anchorage to Fairbanks. We left Anchorage in two vans after photographing the train at the station. For those of you who are not railfans, "chasing a train" is the act of following a train in a car to photograph it in action at crossings and at scenic locations.
As we approached Denali Park we made a quick stop to photograph the mountain range. Mount McKinley, Denali to the natives, is in the Denali National Park. Unfortunately the top of the mountain was hidden by clouds preventing me from getting a photo of the entire mountain.
We caught the train at many places along the way to Fairbanks. The last city we photographed the Denali Star was Nenana.
After seeing us at numerous crossings people on the train began looking for us at crossings. When we were spotted, people riding in the train as well as those looking out of the vestibules and those on the platforms of the cruise cars would point and wave. By the time we got to Nenana we were celebrities and people were taking pictures of us as well as video taping us.
More than twelve hours after leaving Anchorage we arrived in Fairbanks.
Chasing the Denali Star between Anchorage and Fairbanks
Locomotive 4323 and domes 501 and 521 were on the Denali Star

A mountain range in the Denali National Park


Photos of the Alaska Railroad Denali Star traveling from Anchorage to Fairbanks.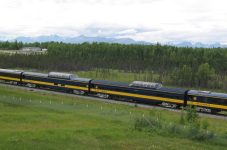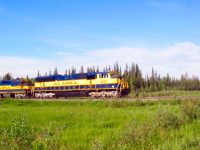 The Mears Memorial bridge over the Tanana River in Nenana. At 700 feet it is one of the world's longest single span bridges.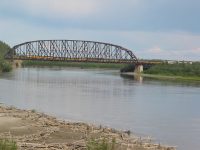 ---

All photos copyright © 2004,2006 John Simakauskas