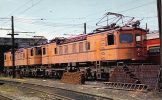 Chicago, South Bend & South Shore #704 and 703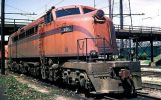 Chicago, South Shore & South Bend #801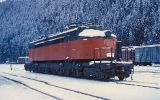 Milwaukee Road #E-76 at Avery Yard, MT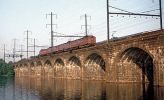 Four Pennsylvania Railroad MP54 electrics crossing the Deleware River in Trenton, NJ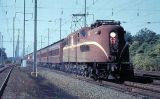 Pennsylvania RR GG1 #4907 in Edison, NJ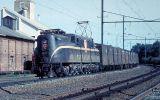 PRR GG1 #4930 in Leaman Place Junction, PA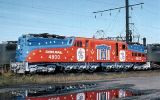 Conrail GG1 4800 in a gaudy paint scheme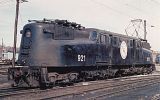 New Jersey DOT GG1 921 with a big white Savings Bonds seal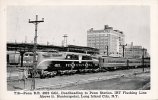 Penn R.R. 4923 GG1, Deadheading to Penn Station. IRT Flushing Line Above it. Hunterspoint, Long Island City, N.Y.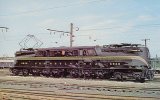 PENNSYLVANIA 4935 * No, it's not 1943, but May 14, 1977 and Amtrak's 4935 has its portrait taken in fresh Penn sylvia RR colors. Restoration was undertaken by Amtrak at the suggestion of and financial contributions raised through the Philadelphia Chapter, National Railway Historical Society.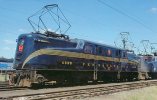 GG-1 NO. 4935 * Amtrak GG-1, #4935 repainted in the famous Pennsylvania Railroad paint-scheme of Brunswick Green & Gold pinstripes, awaits a run at Ivy City, in Washington, DC, in October, 1977. "Friends of the GG-1" and Amtrak restored #4935 to its original appearance on May 1, 1977. Capable of 100+ MPH operations, 139 GG-1's were built between 1934 & 1943 for the Pennsylvania Railroad.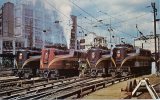 PENNSYLVANIA RR * Remember when the line up of power opposite the Sunnyside enginehouse in New York looked like this? This classic scene of four pin stripped GG1 electric locomotives occurred in June 1954.